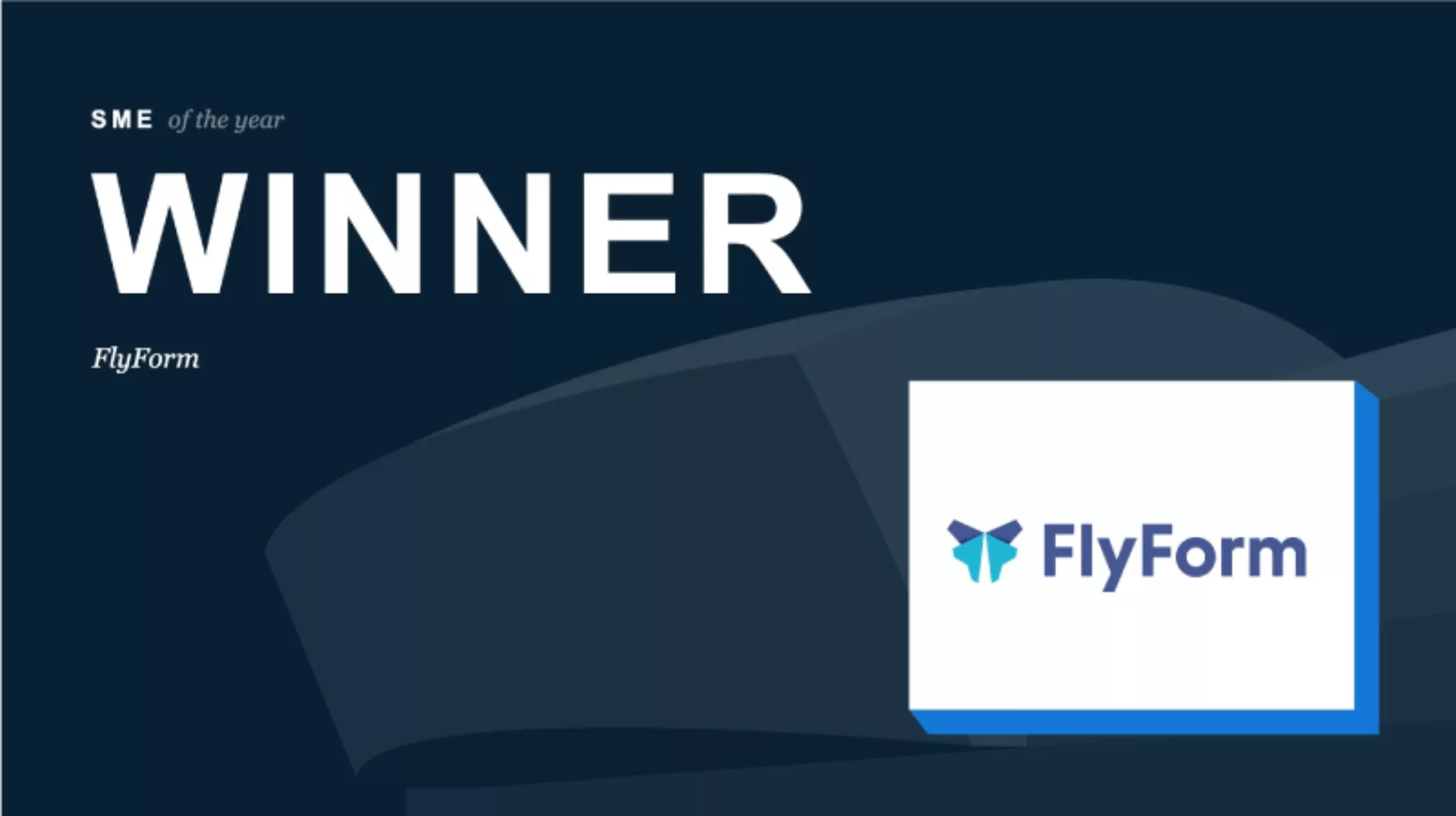 FlyForm has been named SME of the Year at the 2020 Cardiff Business Awards. FlyForm was named winner in one of the most competitive categories at this year's virtual awards show, which took place on the 13th of November, 2020 and celebrated the best businesses in Cardiff and the vast potential that exists within the capital city of Wales.
"FlyForm is thrilled to have been named SME of the Year at this year's Cardiff Business Awards. It was an honour to have our success recognised in an awards show that highlights the best and most competitive businesses and entrepreneurs in Cardiff. My team and I are humbled by this achievement and we are motivated to keep growing and investing in Wales.
"This year's ceremony was a reminder of the diversity of the Cardiff economy. My co-founder and I are both born in Wales. We chose this city as our headquarter because we saw the potential for growth and talent that Wales has to offer. To witness our growth over the last 5 years - and to win this award - is the best validation of that vision."
Phil Davies - Co-Founder & CEO of FlyForm
FlyForm was founded in 2015 by Arron Davies and Phil Davies. As the only Wales-based partner of ServiceNow® – the premier global B2B cloud platform, FlyForm was created with the mission of making the world a better place through the power of technology. Earlier this year, the company received an investment from Lloyds Bank to fuel growth target of £1 billion by 2030. The company was also recently named the 11th fastest-growing company in Wales, with revenue growth averaging over 350% over the last two years. FlyForm's current clients span a variety of sectors, including government, financial services, technology and healthcare.

Now in their sixth year, the Cardiff Business Awards recognised those companies and individuals who have enjoyed impressive success over the last year and have made an outstanding contribution both to their respective sectors and to the wider Cardiff economy itself.
"While this year's awards have taken place in a very difficult environment for business, we have been delighted with the range and quality of the applications. Amongst the winners, there are well established businesses in the city and a new generation of technology companies who will be making their mark in the economy over the years ahead.
As a Council we look forward to working with all the businesses and helping them to grow and prosper in our capital city."
Cllr Huw Thomas, Leader of Cardiff Council - main sponsor for the awards
The Cardiff Business Awards were supported by headline sponsors Cardiff Council, with other sponsors including; AMPLYFI, Bluegg, Box UK, Cardiff and Vale College, Cardiff Metropolitan University, Cleartech Live, CPS Group (UK), Development Bank of Wales, Dragon Taxis, LexisNexis Risk Solutions, Towergate Insurance Brokers and United Purpose.
"Although we couldn't get to celebrate in person with everyone I am so pleased we were still able to recognise the amazing depth of talent that Cardiff has. Even in a pandemic we had a record number of entries and it was humbling to hear from so many amazing companies who are achieving great things despite tough times and I congratulate all of them on their achievements".
Liz Brookes, Co-Founder of the awards and Director of Grapevine Event Management
The nominated charity partner for the awards was Cancer Research Wales, which is dedicated to developing life-changing treatments, diagnostic techniques, and research for people with cancer.

ServiceNow, the ServiceNow logo, Now, and other ServiceNow marks are trademarks and/or registered trademarks of ServiceNow, Inc., in the United States and/or other countries. Other company and product names may be trademarks of the respective companies with which they are associated.