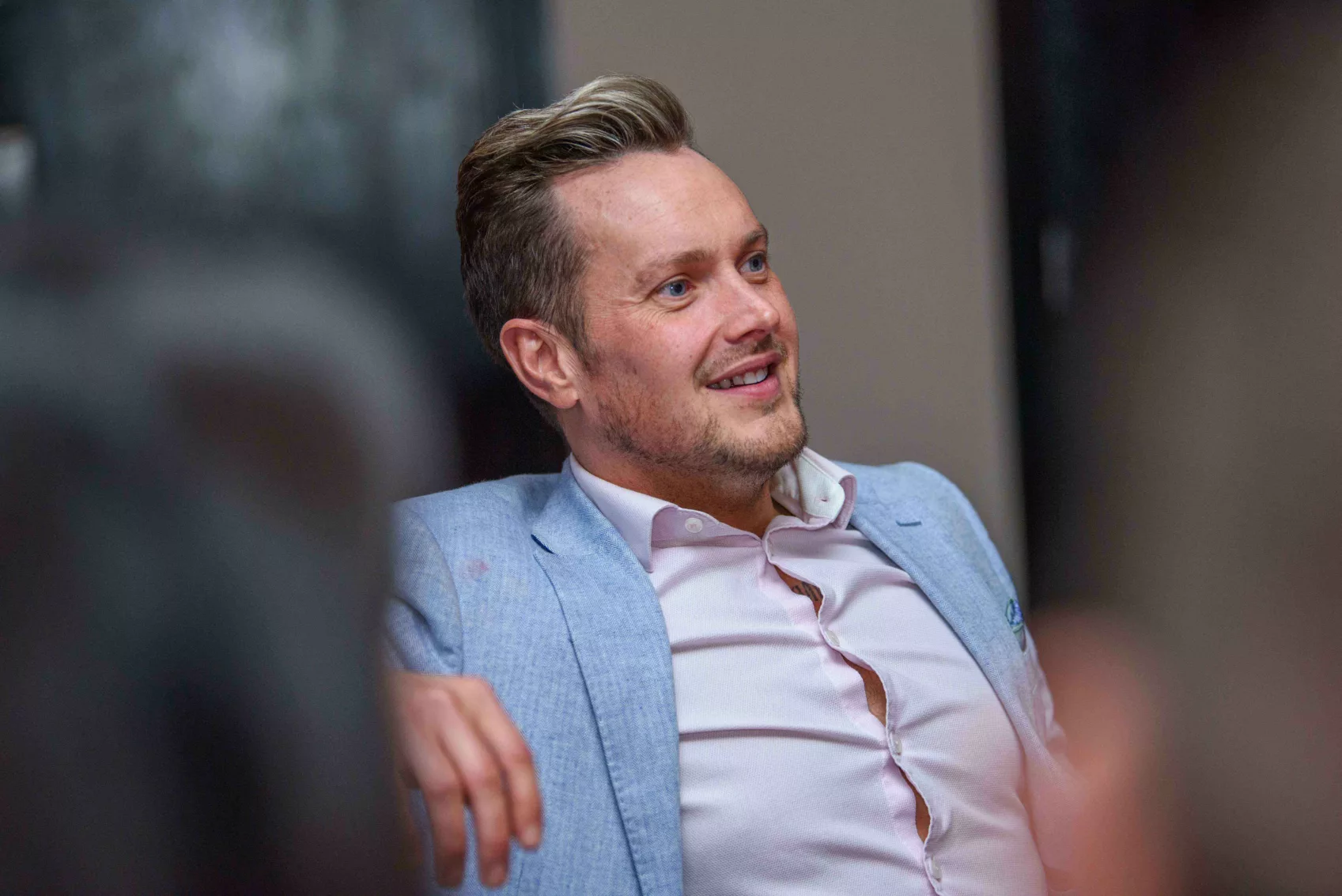 A Message from Phil
FlyForm is a people focussed business. It always has been; it always will be.
FlyFormers make me proud every day. They inspire me with their dedication to our values, the depth of their commitment to our customers, and the fun they have delivering exceptional value.
Our employees have turned a vision into a culture that is lived every day, a culture where people matter. Their every action reinforces the conviction that led to our company's founding: that a dedicated team of exceptional individuals can create such a significant, positive impact.
Embracing a career at FlyForm means you will be part of a tight-knit, fast-growing family. You will have the opportunity to develop your skills and demonstrate leadership as you make a positive impact on your customers, colleagues, and communities.
Life at FlyForm is something unique.
Phil Davies
Co-founder and CEO
Being a FlyFormer isn't about having a job. It's about a shared belief that making the world better for others makes it better for us, too.
We are a group of unique individuals, bound together by the desire to do good, who have chosen ServiceNow to achieve this. And while we are dedicated to delivering exceptional value to every one of our clients, we also believe in enjoying the journey. We work together, and we play together. We support each other; we are a family.
Watch the video below to find out what our FlyFormer's love about being here
People first

A business's health isn't measured by its balance sheet alone.

We put our people's physical, emotional, and spiritual health before profits. After all, our people's well-being is essential to the business's long-term health.


When workloads increase or team members need to step back to care for themselves, we work as a team to share the load, to not overburden any individual.

We pull together, supporting each other – because our people and purpose will always come first.

Be a good egg

It costs nothing to treat others with respect and dignity – and it's the right thing to do.

We act with compassion in everything we do. Respect those with whom we disagree and seek common ground.

We strive to understand mistakes rather than condemn them and find solutions that give the best results for everyone.


At FlyForm, nice people finish first. That's just how we roll.

Do the Right Thing

Doing the right thing is always the right thing to do. Even when it's hard.

Doing what we know to be right – acting with honesty and integrity – always creates a superior outcome. It may not be easy, but it's always worth the effort.


When we work together to serve the common good; everyone wins.

Create a Positive Impact

Delivering the ultimate ServiceNow partner experience is what we do. It's not why we exist.

Everything we do is driven by a need to have a positive impact on the world around us.

We aim to leave everyone we interact with – friends, family, colleagues, clients, community, or strangers – better off than we found them.

Own it

Responsibility, clear communication, and accountability. We embrace these principles within FlyForm and in our work with clients.

We ensure everyone understands the objective. This empowers us to deliver our best work and to make effective decisions.

Likewise, we own our errors – reflecting on processes and events to better understand the cause and extract teachable moments.

We ensure we do better next time. We never stop learning and striving for greatness.

One team

We're more than the sum of our parts. We accomplish more as a team than we can as individuals.

At FlyForm, we work together, pulling in the same direction. We have each other's backs.

When we fail, we learn from it to come back stronger, together. Because when we work as a team, we win as a team.
Great Perks
Health Insurance
Healthcare options with full annual premium covered for you and your family, provided by BUPA - so you can be in the best shape to perform.
Mental Health Support
FlyFormers have access to the mental health support they need whenever, wherever, however they need it - through in-house counselling or private external support hotline.
Group Life
Following your probation period you will be enrolled into our Group Life policy also known as death in service, where we will pay out your next of kin 4x your basic annual salary.
Referral Bonus Programme
You've worked hard to build your network - so why not get rewarded for it? You get a £1500 bonus for every FlyFormer that you successfully refer to join our family.
Pension Scheme
Wherever you are in your life, our enhanced pension scheme with company matching of up to 5%, can help you prepare for the future the way you want to - with full autonomy over contribution.
PerkBox
Following your probation period you will be enrolled into PerkBox - a provider which offers you savings and perks on loads of different brands. From supermarkets to health care as well as activities to improve your health and wellness.
Enhanced Holiday Entitlement
We offer all FlyFormers 33 days' holiday a year – 8 public holidays plus 25 days.
Sick Pay Scheme
Sickness happens - it's part of being humans. FlyForm will cover your full pay for up to 4 weeks every 12 months so you can recover the way your body needs to.
Free Snacks & Drinks
From a morning snack to hold you over until lunchtime to an afternoon energy-boosting coffee. FlyForm's office pantry - stocked with healthy snacks and drinks - has got you covered.
FlyForm Socials
Togetherness is in our DNA . Our team get together for quarterly in-person events, weekly team lunches and spontaneous happy hours.
Your Birthday Off
All FlyFormers receive their birthday off every year as an additional day of annual leave. This is a day to thank you for all you do for us and to celebrate with your loved ones.
Perks to Take Care of Your Wellbeing
10-minute Coffees
Opt-in to be randomly paired with another FlyFormer for a 10-minute chat each week. You can chat about anything, work-related or not, allowing you to get to know people outside your immediate colleagues.
Wellbeing Ambassadors
Our Wellbeing Ambassadors are a willing ear to listen to any worries or difficulties you're facing. Our Ambassadors work in every area of the business and are easily identifiable by the blue hearts on their Slack profiles.
BUPA
As a perk to our FlyFormers, we provide private medical care, which includes access to a wide range of physical and mental health support, including 24/7 access to medical experts through an anytime helpline.
Perkbox
Perkbox is an app that offers various methods of support, such as meditation walkthroughs and wellbeing articles, as well as thousands of discounts and offers to choose from to help ease the cost of living.
15Five and Engage Surveys
Weekly and quarterly surveys allow you to share your thoughts and feelings and voice any concerns. Our managers and Senior Leadership Team use this detail to make tangible improvements to how we're working.
LifeWorks
LifeWorks is an online and app-based service that offers tools and programmes to support physical, financial and mental wellbeing, as well as a 24/7 Employee Assistance Programme offering advice and support.
Great People

Adam Godfrey

Sales Director

Years of Professional Experience: 10 Years


Favourite Quote: Speed is 4 billion times more important than perfection

Describe Yourself in 3 Words: Get stuff done

Favourite Book: Can't Hurt Me: Master Your Mind and Defy the Odds by David Goggins

Rob Rees

Managing Director

Years of Professional Experience: 28 Years


Spirit Animal: Owl


Favourite Song: Shake Your Tailfeather

Favourite Quote: "Give a man a fish and you feed him for a day. Teach him how to fish and you feed him for a lifetime"

Leah Smith

Chief of Staff

Years of Professional Experience: 8 Years


Spirit Animal: Horse


Describe Yourself in 3 Words: Tenacious, Organised, Confident

Favourite Quote: "It's Better to ask for Forgiveness than Permission"

Caroline Dunning

Head of Delivery

Years of Professional Experience: 22 Years

Spirit Animal: Wolf


Describe Yourself in 3 Words: Super-Organised, Determined, Supportive

Favourite Song: Never Tear Us Apart - INXS

Brad DeBono

Technical Consultant

Years of Professional Experience: 8 Years


Spirit Animal: Squirrel


Favourite Quote: "If you want something you've never had, you need to do something you've never done"


Describe Yourself in 3 Words: Honest, Nerdy, Reliable

Christopher Brannigan

Technical Consultant

Years of Professional Experience: 7 Years


Spirit Animal: Panda


Describe Yourself in 3 Words: Dedicated, hardworking, focused

Favourite Quote: "Nothing will work unless you do." - Maya Angelou

Chloe Sykes

Engagement Manager

Years of Professional Experience: 8 Years


Favourite Quote: Every Day May Not Be Good, But There is Something Good in Every Day

Describe Yourself in 3 Words: Nosey, Chatty, Organised

Favourite Book: The Kite Runner by Khaled Hosseini

Christina Chan

Financial Controller

Years of Professional Experience: 15 Years


Describe Yourself in 3 Words: Outgoing, Food Lover, Cheerful


Favourite Song: It's My Life - Bon Jovi

Hometown: Singapore

Daniel Taggart

Business Analyst

Years of Professional Experience: 11 Years


Favourite Destination: Alaska

Describe Yourself in 3 Words: Friendly, Professional, Talkative

Favourite Book: Ant Middleton Autobiography

Emma Wilcox

Engagement Manager

Years of Professional Experience: 16 Years


Spirit Animal: Cat


Describe Yourself in 3 Words: Hardworking, Organised, Different

Personal Hobby: In my spare time, I like to paint and draw art

Francis Cavaciuti

Lead Technical Consultant

Years of Professional Experience: 19 Years

Spirit Animal: Cat


Describe Yourself in 3 Words: Tall, Caring, Obsessed

Favourite Song: You Got the Love - Candi Staton and The Source

Gareth Hubbard

Talent Acquisition Lead

Years of Professional Experience: 10 Years


Spirit Animal: Gorilla


Describe Yourself in 3 Words: Friendly, Loyal, Happy

Favourite Quote: "Resilience is Suffering, Strategically Managed"


Gareth Price

Technical Consultant Team Lead

Years of Professional Experience: 20 Years


Favourite Quote: Focus on Your Actions, Not Your Targets


Describe Yourself in 3 Words: Chilled, Approachable, Humorous


Harry Campbell

Senior Technical Consultant

Henry Hughes

Senior Support Consultant

Years of Professional Experience: 1.5

Spirit Animal: Whale


Favourite Quote: "To play a wrong note is insignificant, to play without passion is inexcusible." - Beethoven


Describe Yourself in 3 Words: Getting It Done


Favourite Travel Destination: Italy

Holly Regan

Account Manager

Years of Professional Experience: 5.5 Years


Spirit Animal: Giraffe


Describe Yourself in 3 Words: Motivated, Reliable, Loyal

Favourite Song: Gangsta's Paradise - Coolio

Jake Marshall

People & Culture Advisor

Years of Professional Experience: 6 Years


Spirit Animal: Chimpanze


Describe Yourself in 3 Words: Energetic, Tenacious, Empathetic




Kyle Jones

Engagement Manager

Years of Professional Experience: 4 Years


Favourite book: 'Life 3.0' by Max Tegmark


Favourite Quote: 'Wisdom is one of the few things that looks bigger the further away it is.' Terry Pratchett

Describe Yourself in 3 Words: Persistent, Introspective, Friendly

James Picton

Senior Technical Consultant

Years of Professional Experience: 3 Years


Spirit Animal: Eagle


Describe Yourself in 3 Words: Determined, honest, inquisitive

Favourite Travel Destination: Japan

Jonathan Else

Pre-sales Consultant

Years of Professional Experience: 10 Years


Spirit Animal: Tiger


Favourite Quote: Some people walk in the rain, others just get wet

Describe Yourself in 3 Words: Calm, friendly and driven

Jonathan Swanwick

Technical Consultant

Years of Professional Experience: 11 Years


Spirit Animal: Swan


Favourite Quote: It's Nice To Be Important, But More Important To Be Nice


Describe Yourself in 3 Words: Engaging, Positive, Easy Going

Joseph Davies

Customer Support Consultant

Years of Professional Experience: 6 Years


Favourite Song: Howl - The Gaslight Anthem

Describe Yourself in 3 Words: Positive, Relaxed, Resourceful

Favourite Book: Malazan, Book of The Fallen

Katie Jansons

Head of Services

Years of Professional Experience: 21 Years


Describe Yourself in 3 Words: Ambitious, Energetic, Supportive


Favourite Song: China In Your Hands - T'Pau

Hometown: Winchester

Linda Plant

Engagement Team Lead

Years of Professional Experience: 38 Years


Favourite Quote: "Trust yourself. You know more than you think you do." — Benjamin Spock

Describe Yourself in 3 Words: Tenacious, Strong, Loyal

Favourite Book: Evil Mind by Chris Carter

Lucy Powell

Account Manager

Years of Professional Experience: 16 Years

Spirit Animal: Elephant


Describe Yourself in 3 Words: Caring, Loyal, Dippy


Favourite Song: You've Got the Love (Orchestral Arrangement) - Florence & the Machine

Luke Ghamloush

Technical Consultant

Years of Professional Experience: 9


Spirit Animal: Wolf


Favourite Quote: "When life gives you lemons, don't make lemonade. Make life take the lemons back! Get mad! I don't want your damn lemons, what the hell am I supposed to do with these? Demand to see life's manager!" - Cave Johnson, Portal 2


Describe Yourself in 3 Words: Gregarious, Caring and Friendly

Luke Mitchell

Technical Consultant

Spirit Animal: Wolf

Favourite Quote: Programming is 10% Writing code and 90% Understanding Why it's Not Working.


Favourite Travel Destination: America


Describe Yourself in 3 Words: Fun, Innovative, Nerd

Marcus Gentle

Solutions Consultant

Years of Professional Experience: 7 Years

Spirit Animal: Dog


Describe Yourself in 3 Words: Chatty, Smiley, Sarcastic


Favourite Travel Destination: Greece

Michaela Shadwell

Business Analyst

Years of Professional Experience: 10 Years


Spirit Animal: Hummingbird


Describe Yourself in 3 Words: Bubbly, Passionate, Fair

Favourite Song: Count on Me - Bruno Mars

Molly Ide

Junior Technical Consultant

Years of Professional Experience: 4 Years


Favourite Destination: Disneyland, Paris

Describe Yourself in 3 Words: Expressive, Loyal, Unique

Favourite Book: Angels and Demons by Dan Brown

Naomi Robertson

Senior Marketing Executive

Years of Professional Experience: 8.5 Years


Spirit Animal: Deer


Describe Yourself in 3 Words: Enthusiastic, Dog-Lover, Adventurous

Favourite Travel Destination: Vietnam

Nick Blake

Resource Manager

Years of Professional Experience: 28 Years

Spirit Animal: Wolf


Favourite Quote: Wanting to Be Someone Else is a Waste of The Person You Are - Kurt Cobain


Describe Yourself in 3 Words: Organised, Approachable, Thoughtful


Favourite Travel Destination: Florida

Peter Delf

Managed Service Technical Lead

Years of Professional Experience: 19 Years


Favourite Quote: The definition of insanity is doing the same thing over and over again and expecting a different result

Describe Yourself in 3 Words: Thorough, Committed, Fun

Spirit Animal: Elephant

Rebecca Callan

Senior PMO Analyst

Years of Professional Experience: 6 Years

Spirit Animal: Panther


Favourite Quote: Perfect is the Enemy of the Good


Describe Yourself in 3 Words: Honest, Loyal, Independent


Favourite Book: The Lord of the Rings

Philip Hangyal

Technical Consultant

Years of Professional Experience: 6 Years


Spirit Animal: Samoyed (dog breed)


Describe Yourself in 3 Words: Culture Loving Nerd

Favourite Quote: "If you aim at nothing, you hit nothing"

Ryan Duce

Technical Consultant Team Lead

Years of Professional Experience: 5 Years

Spirit Animal: Golden Retriever


Favourite Quote: Every Delay is a Blessing

Favourite Travel Destination: Thailand

Ruiad Haddad

Engagement Manager

Years of Professional Experience: 15

Spirit Animal: Wolf


Favourite Travel Destination: Mexico

Describe Yourself in 3 Words: Extrovert, Versatile, Motivated

Sean Pickering

Technical Consultant

Years of Professional Experience: 6 Years


Favourite Travel Destination: Tuscany

Describe Yourself in 3 Words: Enthusiastic, Ambitious, Easygoing

Favourite Book: The Time Machine

Sarah Hill

Financial Controller

Years of Professional Experience: 5 Years


Spirit Animal: Bird


Describe Yourself in 3 Words: Grounded, Happy, Strong

Favourite Quote: "No Pain, No Gain"

Sergio Carneiro

Technical Architect

Years of Professional Experience: 6 Years


Spirit Animal: Raven


Favourite Quote: "Believe Me, There's No Metaphysics on Earth Like Chocolates - Álvaro de Campo


Describe Yourself in 3 Words: Funny, Responsible, Friendly


Sharmila Kadermaideen

Customer Support Consultant

Years of Professional Experience: 10 Years


Spirit Animal: Dove


Describe Yourself in 3 Words: Passionate, Pensive, Happy

Favourite Quote: "In a World Where You Can Be Anything, Be Kind"

Simon Young

Account Manager

Years of Professional Experience: 15

Favourite Quote: Simplicity is the Hallmark of Genius


Describe Yourself in 3 Words: Never Stop Learning


Favourite Song: Freestyler - Bomfunk MCs


Steven Williams

Technical Architect

Stuart Perkins

Business Analyst

Years of Professional Experience: 21 Years


Spirit Animal: House Cat


Favourite Travel Destination: Madeira

Favourite Song: Blackbird - The Beatles

Tom Collis

IT Manager

Years of Professional Experience: 15 Years


Spirit Animal: Tiger

Describe Yourself in 3 Words: Knowledgeable, Honest, Kind

Favourite Song: Water Under the Bridge - Adele

Ashley Giannotti

Lead Technical Consultant

Years of Professional Experience: 8 Years


Spirit Animal: Border Collie


Favourite Travel Destination: Fuengirola, Spain


Describe Yourself in 3 Words: Patient, Honest & Modest

Harry Palmer

Apprentice Customer Support Consultant

Years of Professional Experience: Starting out on his apprenticeship journey


Spirit Animal: Cardinal


Favourite Book: Lord of the Rings


Describe Yourself in 3 Words: Adventurous, Keen and Impactful

Sam Findlay

Senior Technical Consultant

Years of Professional Experience: 6 Years


Spirit Animal: A Goose


Favourite Quote: "No luck catching them swans then?"


Describe Yourself in 3 Words: Careful, Considerate & Caffeinated

Valerie Arthur

Customer Service Consultant

Years of Professional Experience: 10 Years


Spirit Animal: Butterfly


Favourite Quote: "If you never try, you will never know"


Describe Yourself in 3 Words: Innovative, Fun and Bubbly

Jon Maloney

Business Analyst

Years of Professional Experience: 19 Years


Spirit Animal: Dog


Favourite Travel Destination: India

Favourite Quote: "I will go anywhere as long as it is forward"- David Livingstone


Describe Yourself in 3 Words: Happy Go Lucky

Jamie Adams

Project Manager

Years of Professional Experience: 8 Years


Spirit Animal: Jellyfish


Describe Yourself in 3 Words: Committed, Honest, Creative

Favourite Travel Destination: New York and Boston

Alistair Attwood

Content Marketing Executive

Years of Professional Experience: 6 Years


Spirit Animal: Bear


Describe Yourself in 3 Words: Considerate, Level-headed, Kind

Favourite Travel Destination: Rome

Kian Hill

Marketing Assistant

Spirit Animal: Bat


Describe Yourself in 3 Words: Determined, Collected, Creative

Favourite Travel Destination: Gran Canaria

Alasdair Hibberd

Finance Director

Years of Professional Experience: 15 Years


Spirit Animal: Dog


Describe Yourself in 3 Words: Active, Adventurous, Inquisitive

Favourite Song: Start me up - Rolling Stones

Marc Lynas

Service Delivery Manager

Years of Professional Experience: 33

Favourite Travel Destination: New York


Describe Yourself in 3 Words: Approachable, Responsible, Reliable

Favourite Quote: "Quality means doing it right no one is looking" - Henry Ford

Jaime Hindle

Operations Director

Years of Professional Experience: 27

Favourite Travel Destination: Sri Lanka


Favourite Quote: "Not everything that is faced can be changed, but nothing can be changed until it is faced" - James Baldwin

Angela Harrison

Professional Services Team Lead

Spirit Animal: Elephant


Describe Yourself in 3 Words: Careful, Supportive, Tidy

Favourite FlyForm value: Do the right thing

Matt Sharples

Technical Consultant

Spirit Animal: Penguin


Favourite quote: Not all those who wander are lost

Mohammad Nassar

Lead Technical Consultant

Spirit Animal: Lion


Describe Yourself in 3 Words: Passionate, Hard-Working, Perfectionist

Favourite Travel Destination: Cairo

Simon Barnard

Business Analyst

Spirit Animal: Cat


Favourite FlyForm value: Be a good egg

Favourite Travel Destination: Marrakesh

Bartosz Makowski

Managed Service Technical Consultant

Spirit Animal: Wolf


Favourite Book: The Witcher

Favourite Quote: You can't master your life in one day. Master the day, then just keep doing that every day.

Jacob Perry-Lee

Technical Consultant

Spirit Animal: Cat


Favourite FlyForm value: Own it

Favourite Song: Three little birds - Bob Marley

George Matau

Technical Consultant

Spirit Animal: Bear


Describe Yourself in 3 Words: Curious, Energetic, Responsible

Favourite Song: Outliers - Malcom Gladwell