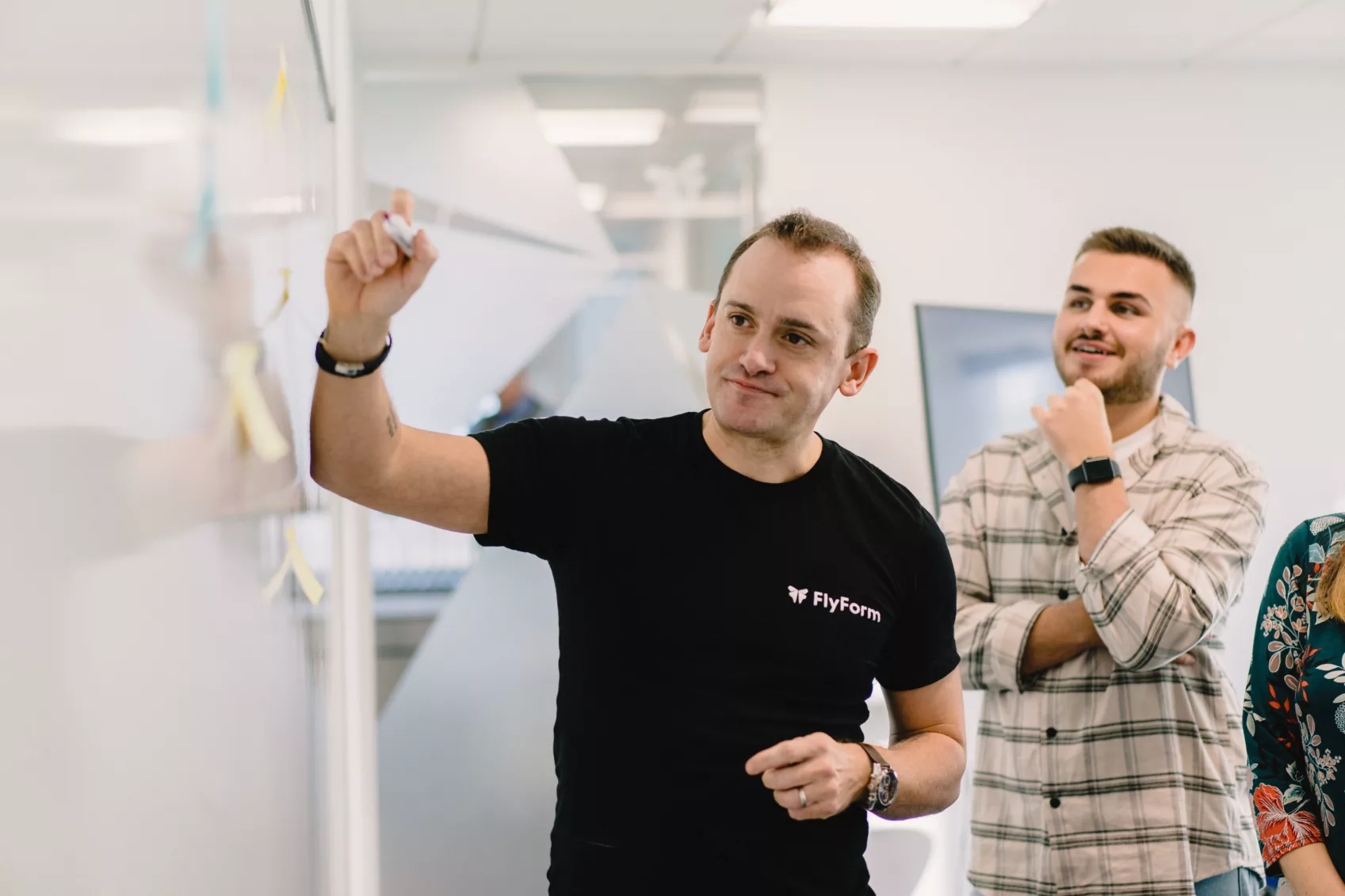 A Roadmap to Successful Digital Transformation
A successful digital transformation starts with a solid plan, with a commitment to providing an excellent experience for all involved: from enhancing your customers' experience, to improving your people's working environment, to delivering value to your business.
FlyForm will work with you – bringing our culture of focusing on people and their needs – to ensure that your progress along this road provides real benefit.
Get in touch
We deliver digital transformation built upon ServiceNow®. This choice allows us to focus on delivering the right solution for you, using all the capabilities of the industry-leading platform. From helping you determine which parts of the Now Platform will provide the greatest immediate benefit, through implementation, to supporting you into the future – whether managing your instance, providing additional capabilities, or embedding the skills to self-manage within your teams – we are committed to ensuring that your experience of FlyForm and ServiceNow is beyond reproach.
We will deliver the ultimate ServiceNow experience.
At FlyForm, we believe that understanding your goals – establishing the results you want to see from your digital transformation – is the most important step in the process. A solid foundation to the plan is as important as a solid foundation to the implementation.
As such, we start our engagement by talking to you – to your people – and listening to what you have to say. We discuss your needs at organisational, departmental, and project level. We assess your current processes and goals. We consider other on-going projects and how they will impact your ServiceNow implementation and how ServiceNow will impact them and use this information to design a sound roadmap.
We seek out the challenges you are facing, and work with you to find new approaches that will streamline productivity.
We plan first – we ensure that we are offering you an approach that works for your business – before building out your solution.
When we partner with you, we don't approach the undertaking lightly. Our people live our philosophy: we make people's working lives better. And we can't do that if we are not bought in to your business.
When we work for you, we are fully invested in your success. Our goals are always aligned: we want your transformation project to succeed; we want to empower you to deliver greater value to your customers; we want your people to feel more empowered to deliver value; we want you to be delighted that you chose FlyForm to deliver on your vision.
Just as all parts of your digital platform need to speak the same language to enable information flow, the project to implement that platform needs to be built on open, honest, and transparent communications.
At FlyForm, we value this openness; it enables us to provide the solutions that will best serve your business needs. And our commitment to open collaboration means that we will always be honest. We will call out challenges when they arise. We will address risks. We will ensure there are no unwanted surprises.
In choosing FlyForm as your ServiceNow partner, you are choosing to benefit from our experience of delivering satisfaction to over 100 customers, positively impacting the working lives of countless thousands of their people.
You will benefit from our consultants' expertise in assessing your needs, in planning an approach that will deliver the greatest enduring benefits in the shortest timeframe, saving you money and producing business value. You are choosing a partner certified by ServiceNow as experts in ITSM, ITOM, CSM, ITBM and other workflows. You are choosing a partner that fully embraces ServiceNow's implementation methodology, always following platform best practice.
You are choosing stability and flexibility, a solution that will grow with you.
To work at FlyForm, a consultant needs to be experienced with ServiceNow. But, more importantly, their approach to delivering – their attitudes – must align with FlyForm's values.
Every FlyForm consultant is committed to delivering the best possible results for your customers and your people. They appreciate how attention to detail produces quality, and how quality makes their working lives better. They embrace honesty and integrity, knowing that it is the best way to deliver results that matter. They understand the value and benefits of an organisational culture that emphasises staff wellbeing: they live it.
Our people work at FlyForm because they believe in our mission and the value they are delivering to your people.
This is reflected in our exceptional CSAT score – consistently amongst the highest in the industry – and our high staff retention.
Case Studies
An ambitious five-year growth plan spurred TIP Trailer Services into action to put their IT processes through a digital transformation and introduce a new custom app for their global team. Armed with extensive knowledge on change and development, FlyForm delivered a custom app solution that not only met the client's complex immediate requirements but also set them up for future growth.

The Science and Technology Facilities Council (STFC) Hartree Centre was looking to expand their customer service to more efficiently support corporations across the country through AI technologies. Over 10 weeks, FlyForm collaborated with Hartree Centre to implement a perfect CSM Pro instance that set them up for future growth.