With the first ServiceNow platform release of 2023 upon us, let's dig into the key changes and features that are now available for you to use.
ServiceNow releases a platform-wide upgrade twice a year, bringing new improvements and enhancements to its Now Platform. Continuing its current convention of naming these releases after cities, Utah has now arrived, with general availability going live on 22 March 2023.
Each release brings with it a whole host of new features, functionality, patches and improvements and Utah is no different – offering new automation enhancements and user experience changes.
With so much included in every release, it can be hard to take it all in.
Including insights from ServiceNow Senior Advisory Solution Consultant Mark Revill, as well as our own FlyFormers, we explore some of the key changes included in the Utah update that you need to know about and should take advantage of.
What's new in ServiceNow Utah?
ServiceNow's latest update is focused on three key principles: simplified experiences, purposeful automation and organisational agility.
Let's dig in and see what's new.
Note: Next to the new feature we've included some extra information in brackets. This is to let you know which product the new feature applies to and the minimum licensing level you'll need to access it.
Simplified experiences
Theme Builder (platform-wide, standard)
Thanks to ServiceNow's Next Experience UI, you can now create custom themes within your ServiceNow instance to give your portals and workspaces a consistent, on-brand, look and feel.
The process is very easy to use, all you'll need is your logo as well as primary and secondary colours. You can also tweak things such as your preferred font and component corner shape.
Once your theme is created, you'll be able to preview it before sending it to production, but you can revisit, edit and update the theme at any time.

Unified theming in mobile apps (platform-wide, standard)
Building on the functionality of the Theme Builder, any custom theme you create will now be applied to the mobile experience as well.
This keeps the visual experience consistent, maintains your brand presence, and offers a much more modern, consumer-grade experience than was previously available.
And, as Mark notes, whilst themes might seem like a purely cosmetic change, it'll go a long way to improving the user experience: "Between our Next Experience UI and new theming features, it all adds up to a much slicker, streamlined experience for both users and agents."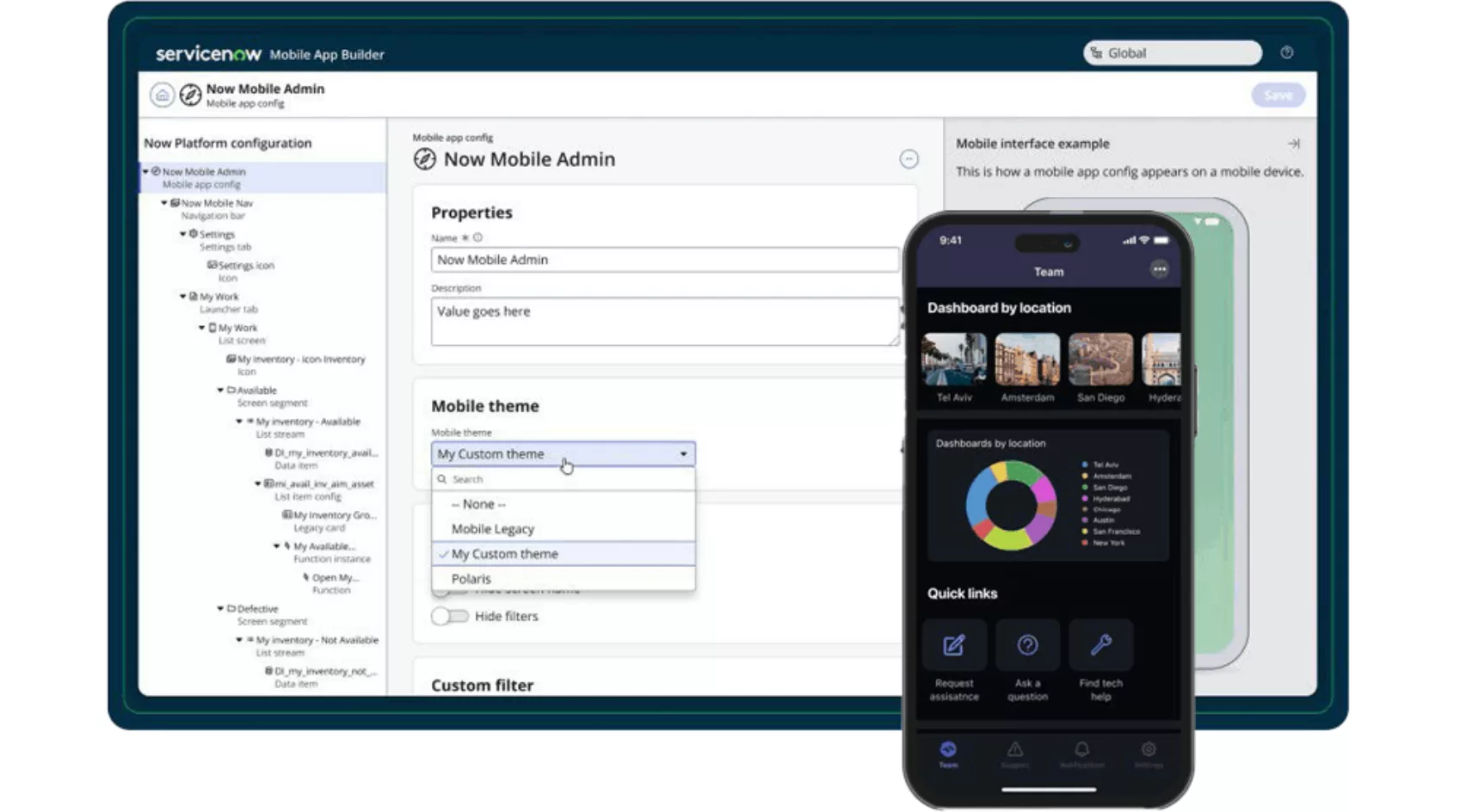 Next Experience workspaces (platform-wide, standard)
Offering a new look and feel fit for a modern way of working, workspaces built for the Next Experience help empower your teams with purpose-built tools and information accessible in a single workspace.
Unifying how you navigate and use the workspace, these new workspaces offer a much simpler and streamlined way of working – vastly improving productivity by offering your agents everything they need, in one place, specific to their role and needs.
Next Experience workspaces also offer greater personalisation, allowing you to set preferred work modes, such as light or dark mode to reduce eye strain and increase productivity.
Our Solutions Consultant, Nicola Conquer, is particularly excited about what the move to these new workspaces will mean for users: "These Next Experience-based workspaces allow you to draw on a huge library of components to tailor the experience to specific roles or teams – shedding the limitations of a 'one-size-fits-all' approach."
You can find out more about ServiceNow's new approach to workspaces in our recent blog.
Document Intelligence enhancements (platform-wide, professional)
Utah features some changes to Document Intelligence to help you discover and easily extract large amounts of information from documents – saving countless hours of manual effort.
A handy new feature is that it can now identify and extract checkbox answers, drastically accelerating the time taken to process completed forms.
Mark says, "The enhancements we've made to Document Intelligence will be a powerful time-saver compared to the days of individually opening, understanding and manually extracting the information."
These new enhancements will also help your process owners to set up, configure and monitor document processing solutions – giving you improved governance and controls to speed up the process without sacrificing data security.
Google Business Messages (CSM, professional)
In the spirit of simplifying the user experience, ServiceNow has now added the option for customers to be able to initiate conversations directly from Google entry points, such as search, maps, and websites.
This means that your customers can engage with you from your Google business listing, without having to navigate your website to find the best way to raise an issue or query.
Customers can then interact with either a virtual or live agent and take advantage of the usual chat-based support functionality such as having access to your service catalogues, community posts and knowledge articles.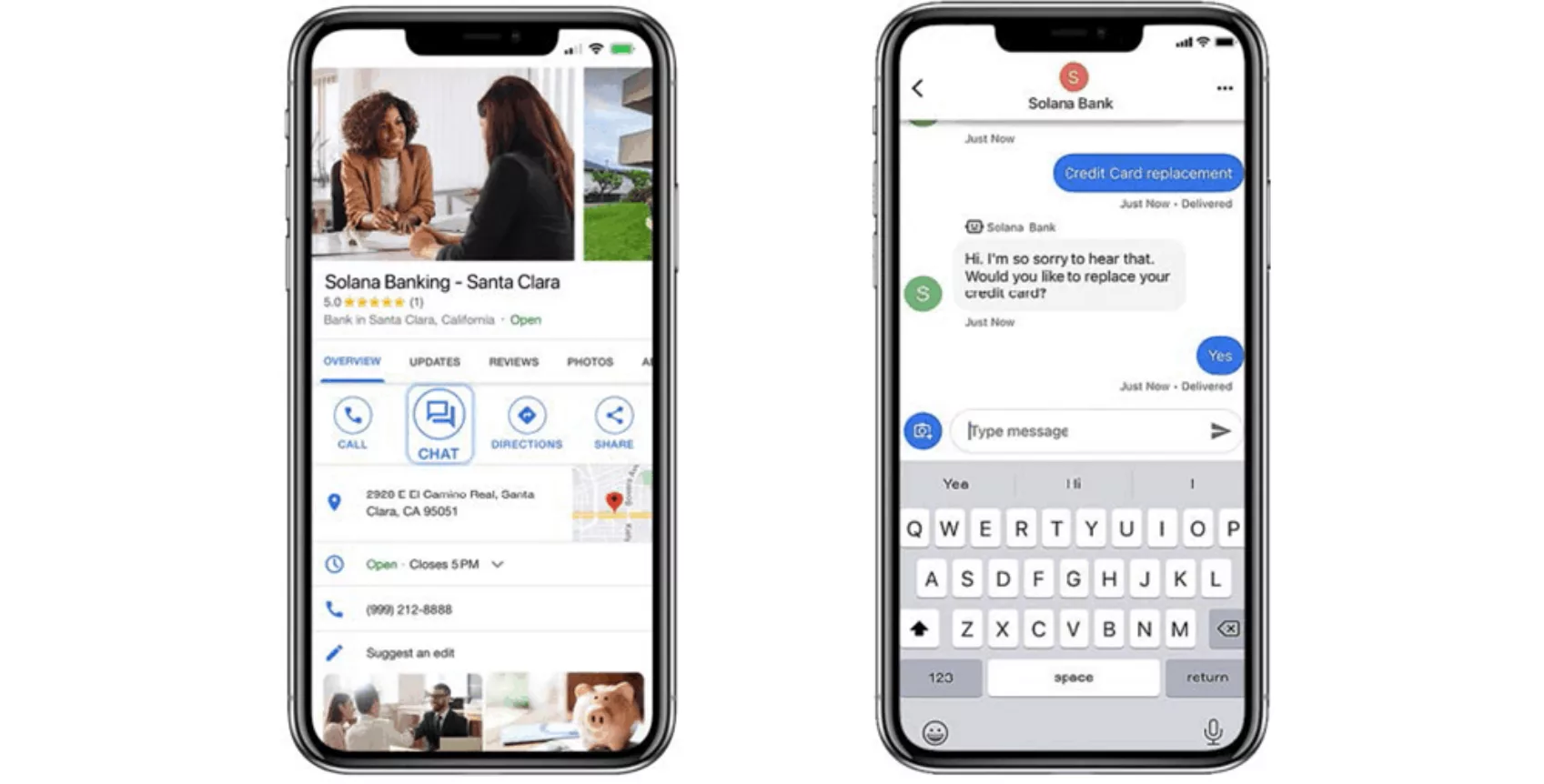 Purposeful automation
Process Optimisation expansion (platform-wide, enterprise)
Available to those with an Enterprise license, Process Optimisation now features an expanded suite of in-platform process mining capabilities:
New, in-depth, actionable analysis of your existing processes, allowing you to make changes that have a demonstrable improvement on business outcomes.
AI-powered root cause analysis to help you get to the bottom of issues and bottlenecks much faster.
Dig into those bottlenecks with new process maps and variation analysis to improve your understanding of what's causing them.
Easily apply improvements through tight integration with other Now Platform capabilities, helping you see improvements quicker.
These powerful automation capabilities will help you understand how you're currently performing much more quickly, easily visualising where there are opportunities and productivity gains to be made.
FlyForm Solution Consultant, Marcus Gentle, says, "The main event of this release is that you're now able to dig deeper and identify inefficiencies in business processes beyond IT, as Process Optimisation is now available for ITSM, CSM, HR Case & Lifecycle Events, custom apps built in App Engine and Field Service Management.
"By expanding to these key business functions, organisations will be able to improve the experience for key customer and end-user facing processes like HR's Joiners, Movers and Leavers, and Customer Service Case Management. After all, a better customer experience, with swifter times to resolution, means less noise for your already busy internal teams."
Workforce Optimisation expansion (Next Experience, enterprise)
Similar to Process Optimisation, Workforce Optimisation is an Enterprise-level tool to help you manage your teams effectively and monitor performance in real time.
You can now easily identify opportunities to improve scheduling and manage time-off requests via an intuitive interface and new model demand scenarios allow you to forecast scheduling needs with precision.
There are also dedicated improvements for Workforce Optimisation for HR for those using the HR Service Delivery (HRSD) product. These include being able to monitor and manage your team's skills and schedules, as well as identifying any training gaps or requirements.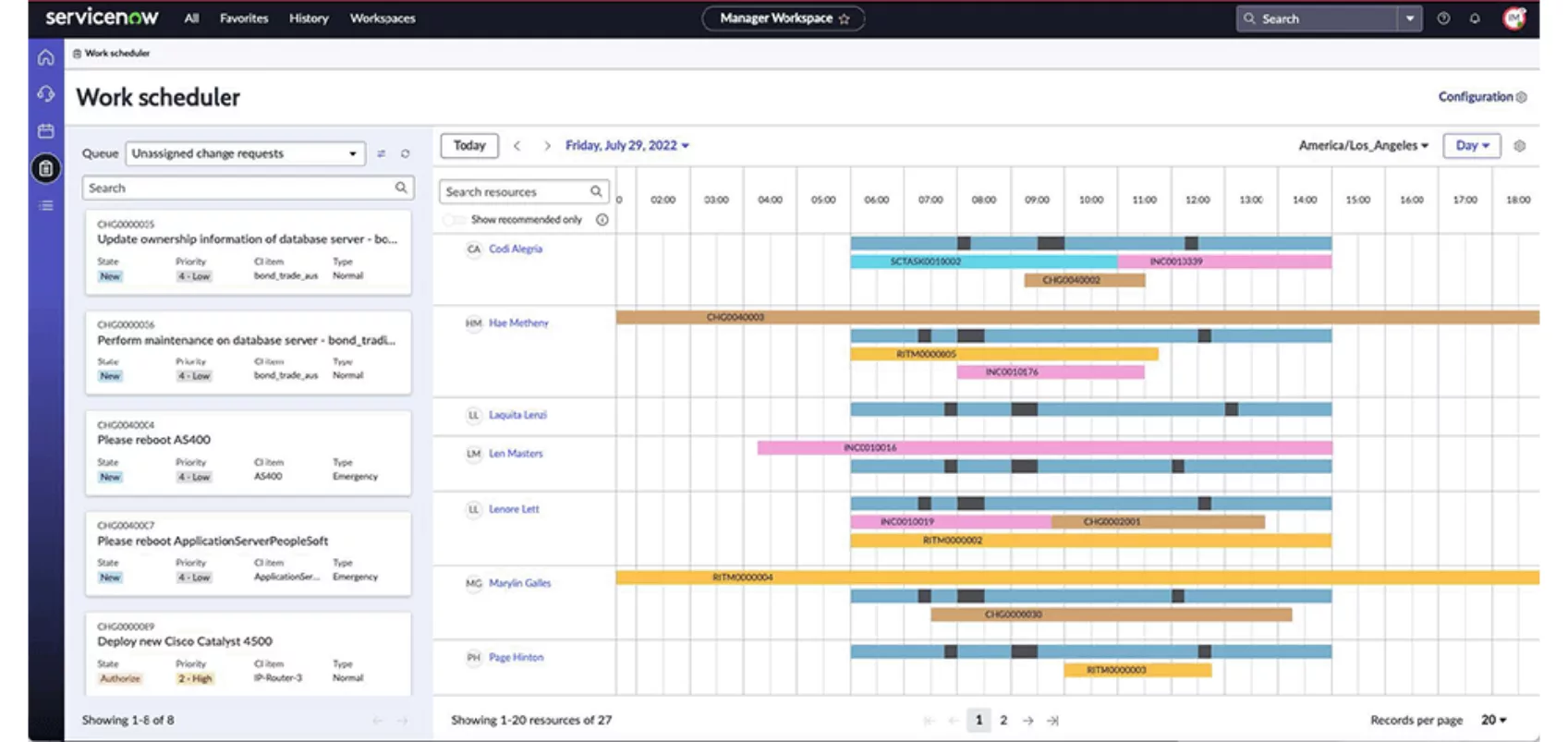 Automation Center enhancements (Next Experience, enterprise)
ServiceNow is always looking to innovate and offer more automation capabilities to its users, however, many customers are still not making the most out of the automation on offer.
"We see it all the time – organisations have a wealth of automation capabilities available to them but either aren't making use of it or, in some cases, don't even know it exists," says Mark.
"The improvements we've made to the Automation Center are designed to help make it easier to identify what is and isn't in use, so customers are getting the full benefit out of the platform with value metrics they can track."
With the Utah release, the Automation Center now offers real-time insights into the true value of your automation use displayed in a single Value Dashboard. Using this dashboard, you can quickly identify missed automation opportunities and broaden your automation coverage by expanding Automation CIs to Integration Hub flows.
Intra-day Schedule Automation (FSM, professional)
Featured as part of Field Service Management, Intra-Day Schedule Automation is designed to automatically adapt to the changing circumstances and workload of your technicians or agents out in the field.
Marcus says, "Dispatcher and Field Agents' jobs are pressurised enough, with tight timeframes and busy workloads, without having to worry about things outside of their control like traffic, poor weather or unexpected task complexity.
"Intra-day schedule automation helps alleviate that pressure by automatically rescheduling work in response to real-time field updates. If an agent finishes a task early, ServiceNow will automatically allocate another task of the appropriate size and location to their schedule. Equally, if an agent was late, it will notify the dispatcher and update said agent's schedule; quickly highlighting the impact on the schedule."
Presented in an easy-to-understand dashboard, Intra-Day Schedule Automation removes the guesswork for dispatchers and helps ensure a better experience by preventing delays, improving customer communication, increasing productivity and, ultimately, overdelivering for customers.
Pair this with the new Task Bundling and Equipment Scheduling improvements and you can easily manage whom you've got where, what they have with them, and where they're needed – ensuring your people and services are always operating at peak efficiency.
Organisational agility
Health and Safety (WSD, professional)
ServiceNow's new Health and Safety application brings together and builds on its existing Safe Workplace portfolio and Workplace Case Management functionality.
Intended to help you promote a wellness and safety culture, Health and Safety enables your employees to report any safety incidents or near-misses with self-service information and reporting.
Created to support organisations manage the return to work process during the coronavirus pandemic, the application is now a full suite to help you manage the health and safety of your people, including illness, incidents, accidents, vaccinations and more.
A real-time injury and illness log allows you to perform root cause analysis and quickly assign corrective or preventative actions to reduce incidents over time and create a safer place to work.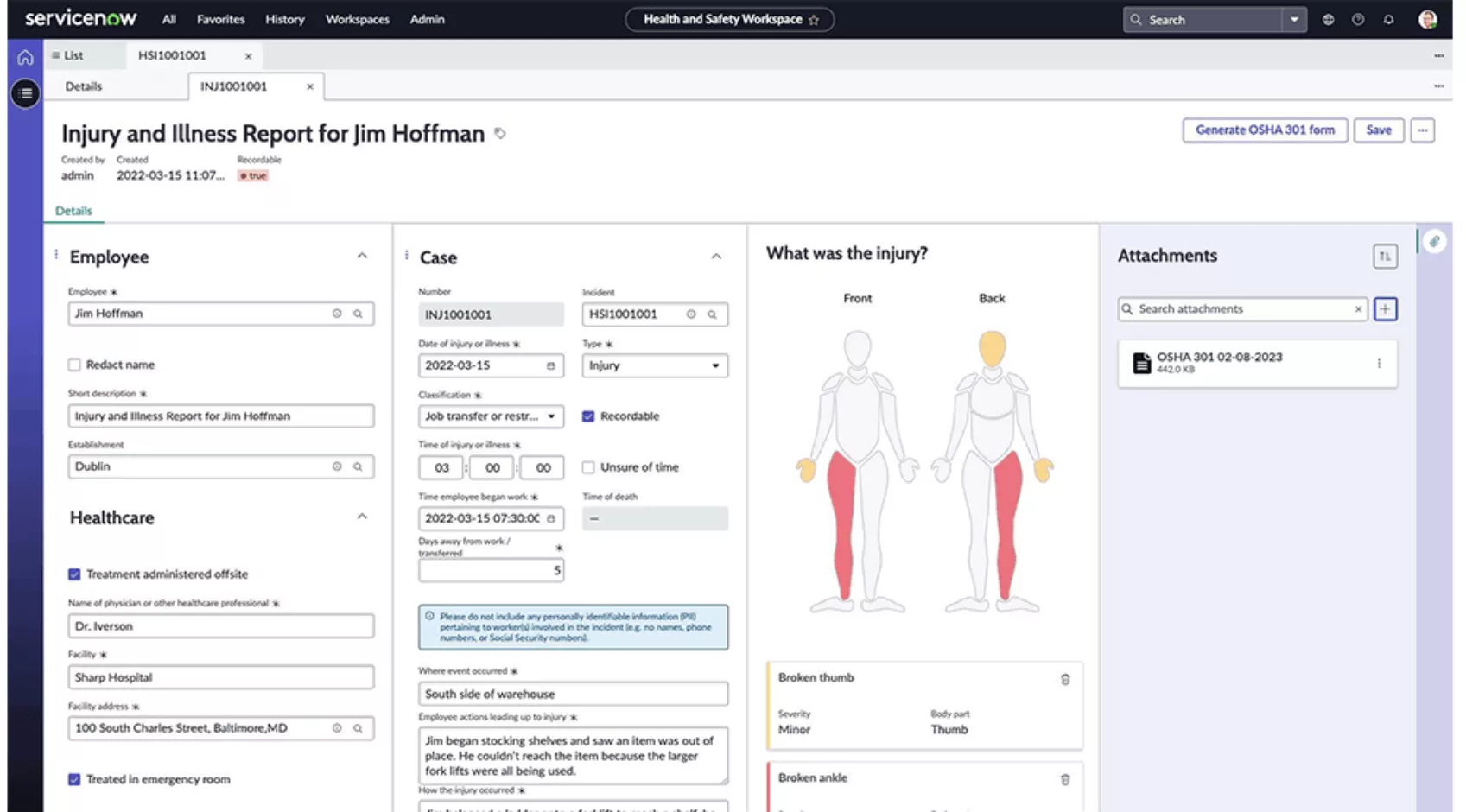 Security Incident Response Workspace (SecOps, standard)
The Security Incident Response Workspace has been enhanced with a new flexible user experience.
Designed with Tier 1 and 2 analysts in mind, it includes all new dashboards and investigation features to help your security team manage incidents and their workload.
New playbooks and recommendations have been added to help you easily progress an investigation. You can easily orchestrate actions using the out-of-the-box integrations – helping you identify and remediate incidents faster to ensure resilience and adaptability for your organisation.
Benchmarks (SPM, standard)
Now new and improved, Benchmarks are intended to help you make data-driven decisions and continuously refine how you're operating.
With Benchmarks in place, you can compare your organisation's performance to companies of similar size and industry to get a sense of how you're really performing.
You can then analyse and optimise your performance using KPIs to produce actionable insights. By using Benchmarks, you'll be able to boost performance over time and make sure that any improvement projects or processes are well-informed and return the results you need.
Workday integration (ESG Management, standard)
Your environmental, social and governance (ESG) standards will only increase in importance as they become a key element in attracting investors and making your operations sustainable.
ServiceNow understands this and wants to make it easier for you to achieve your ESG objectives effectively and transparently.
FlyForm's Head of Solutions, Jonathan Else, explains: "Now, more than ever, organisations are being held to account for how they operate ethically, responsibly, and continue to add value for stakeholders.
"To do this strategically, ServiceNow's ESG capabilities allow you to manage all your environmental, social and governance (ESG) commitments. The ESG Management application enables you to report on your ESG initiatives, bringing in data from all areas of your organisation.
"With the ServiceNow Utah release, you can credibly report against the revised GRI 2021 standards. To take this further, you can now integrate Workday (amongst other tools) to leverage your HR data and capitalise on 15 custom reports and 150 metric definitions.
"ESG Management can provide instant insights by uploading historical data with aggregation to ESG metrics and become an instant system of record."
Being able to accurately evidence your ESG processes has become a must-have for today's organisations – and ServiceNow just made your life a lot easier by providing the tools to do it.
When's the next ServiceNow release?
The next ServiceNow platform upgrade will be called Vancouver and is due to release on 20 September 2023.
Be sure to keep an eye out for our insights into the Vancouver release as we approach the release date in the second half of 2023.

Need help upgrading?
ServiceNow upgrades are no small endeavour, requiring weeks to plan and implement properly. With ServiceNow recommending staying within release cycles, it's not something that can be put off or avoided either – drop behind more than two releases and you'll no longer have support in place.
"We always bring out so much innovation to make customers' lives better and improve cost production and value. Keeping within the release cycle – i.e., doing it every six months – is really important because you'll start to see the value from the new innovations straight away," says Mark.
So, wouldn't it be good if someone could take the headache of upgrading off your hands? Well, you're in luck – we offer an upgrade-as-a-service offering to help you seamlessly transition to the new release.
Why not drop us a note today and we'll ensure a smooth move to Utah and ensure you're getting the very best out of all the new features and functionality.
For the full release details, you can check out the fact sheet here.
Key takeaways
Utah is the first of two big ServiceNow platform releases due in 2023.
The Utah release focuses on simplified experiences, purposeful automation and organisational agility.
The release brings a lot of new automation and user experience enhancements to the platform and individual products.
Upgrading can be a lengthy and resource-intensive process – so consider using a ServiceNow partner to make the transition easy and start reaping the benefits much faster.